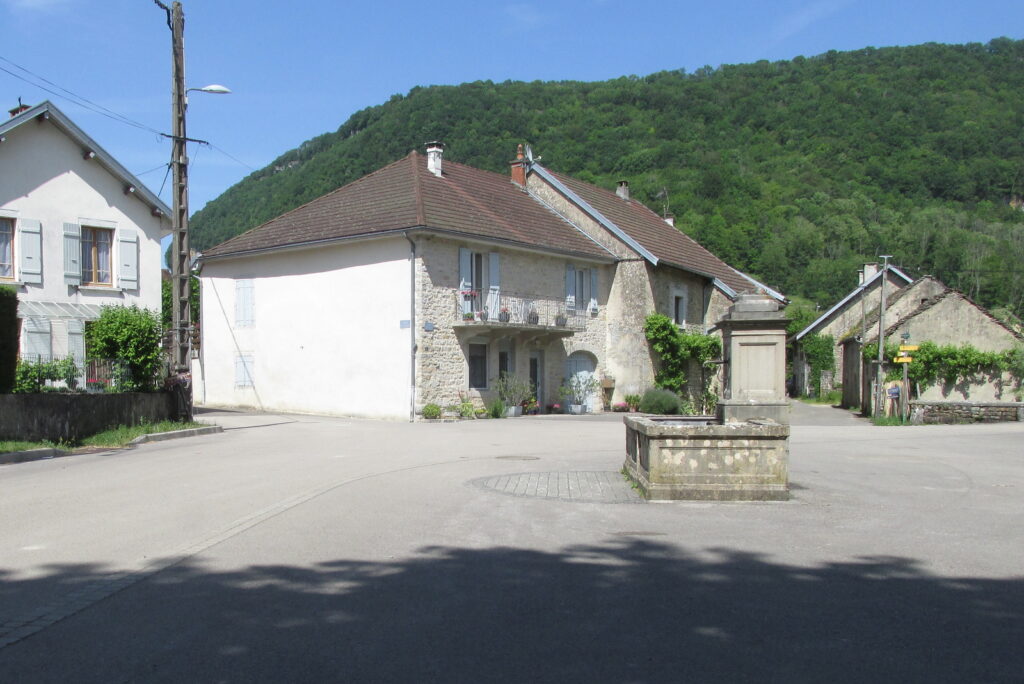 Blois sur Seille
A hidden valley of outstanding beauty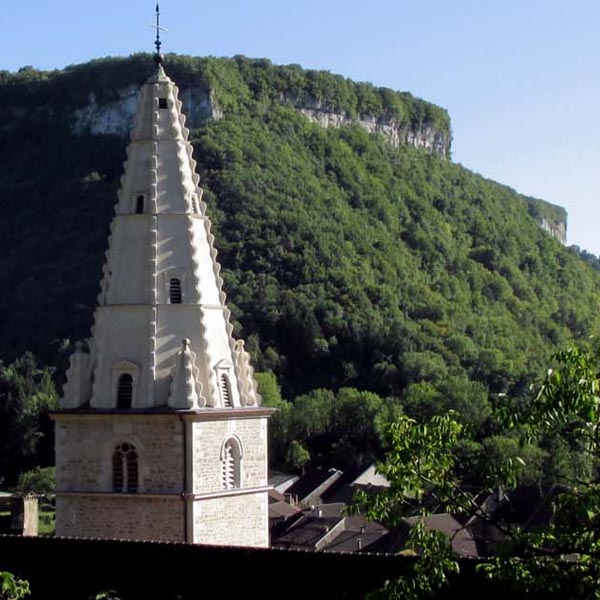 Baume-les-messieurs
Visit the abbey, cascades and caves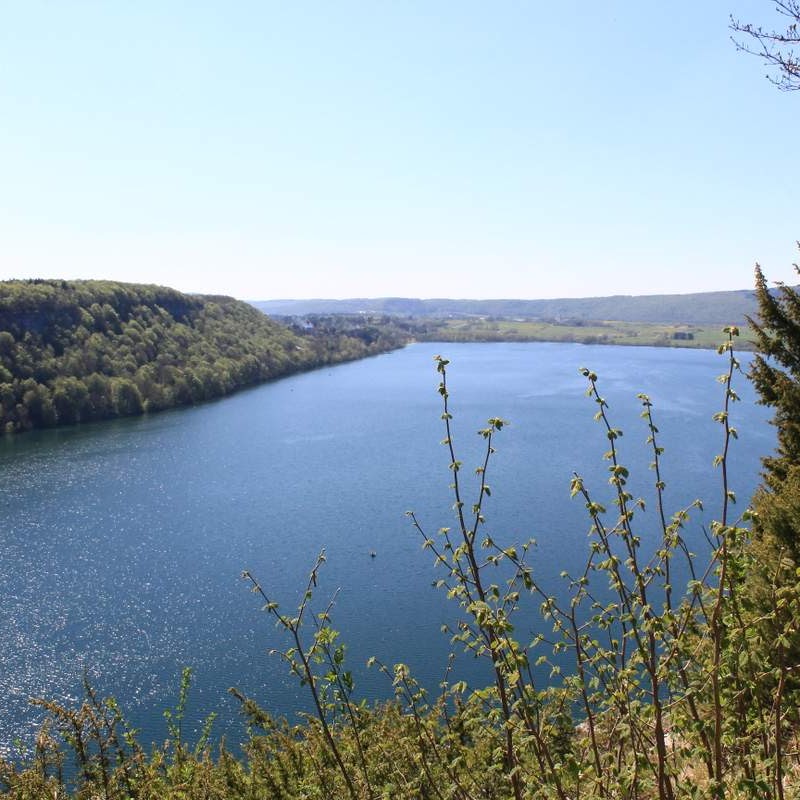 Lac De Chalain
Swimming, beaches and more
In the area
BLOIS-SUR-SEILLE
Stunning views
There are several lovely walks from the door, both gentle and strenuous. Saunter along the path to the mill and beyond , or walk up through the wood to Chaumois Boivin and see the lovely view of the village from the belvedere, before descending via the path through the woods behind the cottage. Walk across the plateau to Grange-sur-Baume and see, not only the stunning view of the abbey below but the ancient, tear-drop shaped shepherds' shelters, then on to the spectacular Cirque de Baume. Climb up the wooded path to Chateau Chalon and reward yourself with lunch.
https://www.blois-sur-seille.com/
BAUME-LES-MESSIEURS
Abbey and Caves
Use a map to find several good walks here. The view from the belvedere at Crancot is worth seeking out. As well as the beautiful Abbey to explore, there is the dramatic waterfall to see on the way to the caves. It's at its most breathtaking, needless to say, after rain. Take the steps to the right of the waterfall and see the river which feeds it. Alternatively, you can go on to the area of the grottes and walk next to the river and back down to the waterfall. A tour of the grottes is really worthwhile. It lasts about 45 mins and you need a jacket even on a hot day.
http://www.baumelesmessieurs.fr/
CHATEAU CHALON
Vinyards and views
Wander round this beautiful village, with its stunning views over the vineyards to the surrounding chateaux, towns and villages and right over to Burgundy. Discover the old church and the ruins of the nunnery which admitted only noble women who had 16 aristocratic forbears' emblems on their coats of arms!
FRONTENAY
Magical chateau
This is in a superb setting and although the chateau is not usually open, the grounds and exterior of the house may be visited. We were lucky enough to catch a tour of a small part of the chateau with the very elderly Comtesse, which was memorable ! There is magical avenue of lime trees near the little chapel.The nearby Grotto is of interest. A pretty route to Frontenay is from Chateau Chalon and through Menetru but it is easy to find from Domblans too.
CHATEAU D'ARLAY
18th century chateau
The medieval site has an 18th century chateau and some winding footpaths to explore. There are sometimes displays of the birds of prey here and there is friendly wine-tasting.
CASCADES DU HERISSON
Astonishing waterfalls
An absolute must! There is a choice of walks of varying difficulty beside some astonishing waterfalls. Take signs to the falls from Doucier, turn onto the D326 and park at the Eventail carpark. From there, the main path takes you to all the cascades. Do wear sensible footwear ! See relevant pamphlet and map in the house.
Towns
ARBOIS
An interesting old town about 40 mins. away. You can visit the house where Louis Pasteur was brought up and to which he returned regularly throughout his life. There are some excellent restaurants and a famous choclatier, Hirsinger. Good boulangerie a few doors away. Town walk.
DOLE
A pretty old town about 40 mins away and Pasteur's birthplace. There is a Pasteur museum in the house in which he was born, interesting artefacts related to the tanners and some lovely 18th century buildings and pleasant river walks.
LONS-LE-SAUNIER
This is a small, friendly spa town with little fountains in the main square which the children love to run in and out of. Great new swimming pool – indoor and outdoor with a sliding roof–but boys have to wear speedo type trunks- not shorts! On the Place de La Liberte you will find Pelen with its delicious chocolates and scrummy cakes. They have refurbished their upstairs salon de the, a good place to indulge on a dull day. The historic rue du Commerce with its covered walkways and interesting shops has a romantic ambience, particularly in the evening. The traditional spa baths , the theatre the the colourful market on Thursday mornings are all worth going to.
BESANCON
The large county town about an hour away. Vauban's Citade, the zoo and museums make this a good day out for a family. Plenty of information in the house.
POLIGNY
Renowned for its cheese, this historic little town has a Maison du Comte and a cheese festival, too.
DIJON
Full of beautiful, historic buildings and good shopping and restaurants. An hour from Blois-sur-Seille.
SALINS-LES-BAINS
Do go to the Salin Royale with its zany gardens and great architecture.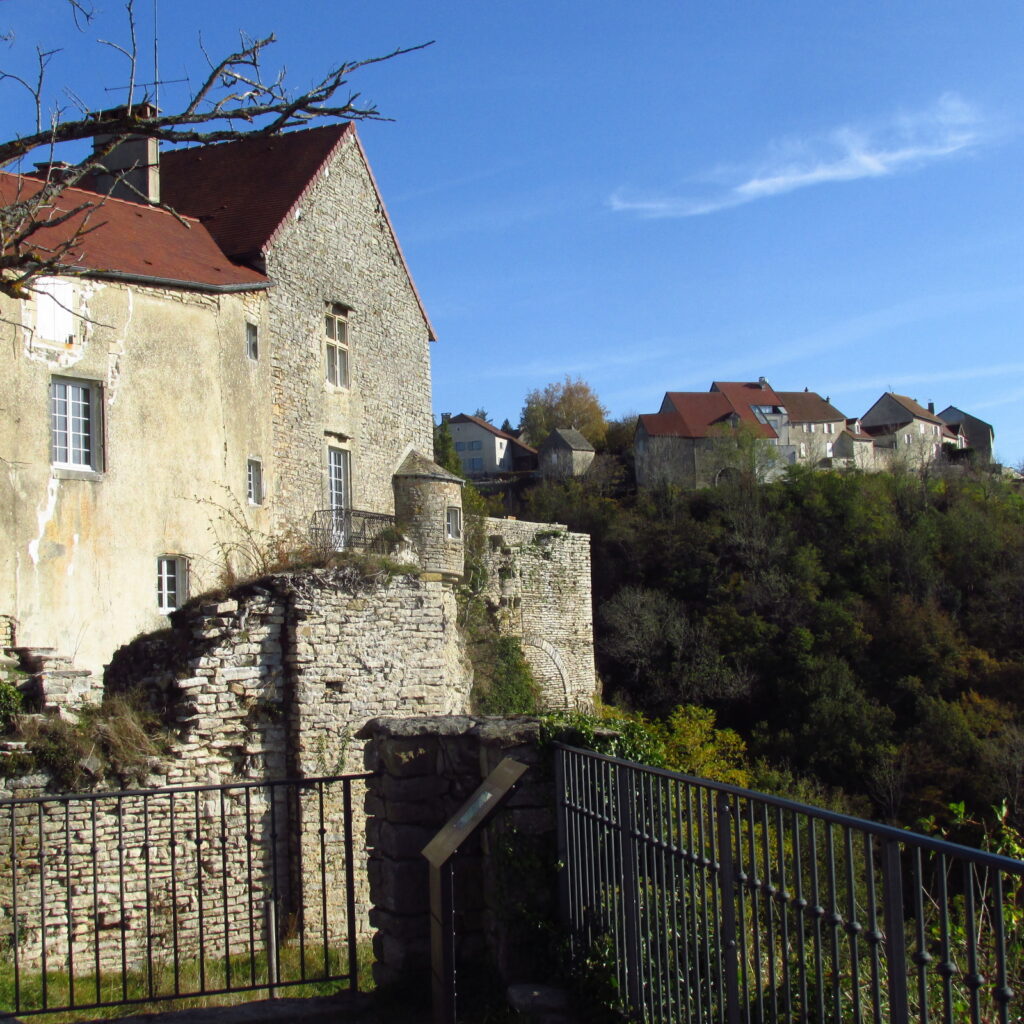 Local activities
LAC DE CHALAIN
Near Doucier – about 20 mins from Maison McDonald – good swimming from a sandy beach with pedaloes, canoes and sailing boats available for hire. There is an aquatic park at Domaine de Chalain with indoor and outdoor paddling and swimming pools with a variety of chutes and cascades and other fun things. It is open from early April to the end of October.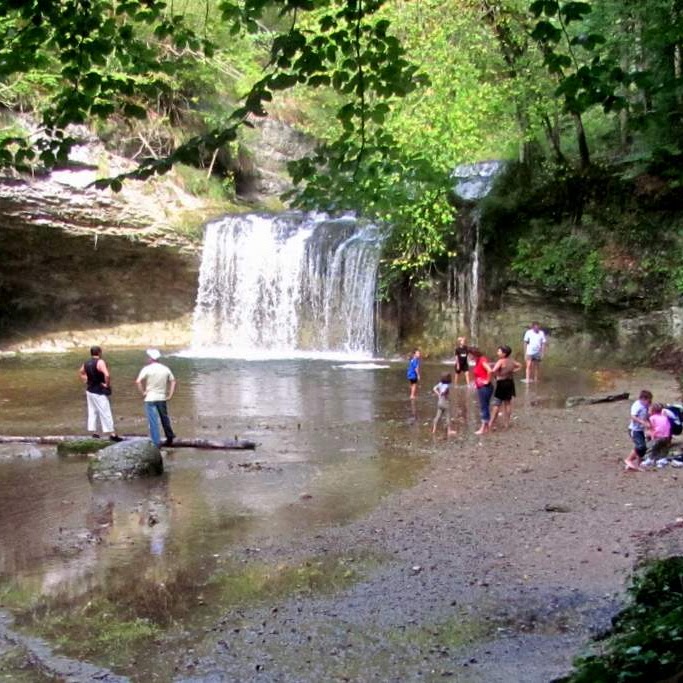 LAC DE VOUGLANS
Water skiing and swimming approx 40 mins from Maison McDonald. Sophisticated water sports area on a 44kms. lake.
HORSERIDING
Fay-en-Montagne 03 84 85 32 07. As well as a choice of horses for hire, Jean-Louis Perrard has great evening trips into the forest with a carriage in July and August.
CANOEING
Pont de Navoy, 03 84 51 27 44. One or three hour trips down the river Ain. Take a picnic and be picked up and returned to your car. Swim en route and suitable for all ages . Les Magiciens D'Eau at Mesnois. Gite De La Praz. Further details are in the cottage.
HIGH WIRING
In the trees at Lac de Chalain. Excellent one at Forts Aventure near Salins-les-Bains. 03 84 73 06 79. Also an enjoyable one at Clairvaux Les Lacs Aventure.
GOLF
Golf Du Val De Sorne 03 84 43 04 80. An 18 hole course in what is claimed to be one of the most attractive courses in France ! There is a short course there, too, of 6 holes.
WALKS
There are many beautiful walks in the area, and lots of information in Maison McDonald. In the valley, look out for wild strawberries, little orchids, unfamiliar butterflies, deer, wild boar, kites, buzzards, kingfishers, alpine swifts, black squirrels with red tails and so on.
Restaurants
LE GRAND JARDIN, Baume-les-Messieurs. 03 84 44 68 37
Just in the next valley and popular with the locals. We go there more frequently than any other restaurant and it is the favourite of our holiday- makers. Didier is an excellent chef and Christine speaks a little English. There are a few tables outside but next to the road, which isn't very busy except at the height of the summer season.
LA MAISON D'EUSEBIA, Chateau Chalon. 03 84 44 92 10
A beautifully restoredl building which was owned by a prioress and then was used for the financial admin of the nunnery. There are tables with sun umbrellas in the walled terrace/grassy area. A bistro type menu is available at lunch time.
LE BISTRO PONTARLIER Port Lesney 03 84 37 83 27
One of Raymond Blanc's favourites, set next to the river Loue. It is casual and friendly with superbly cooked food. Traditional French country cooking in a cosy, sprawling bistro and a large terrace. Well worth the 38minute drive from the cottage! Owned by the same people who have the wonderful Chateau de Germigney up the road.
LE MIRABILIS, Mirabel. 03 84 48 22 25
Pretty drive up to Chaumois Boivin then Le Marre and then on for 5 kms. Building newly refurbished. Traditional food.
LES SEIZE QUARTIERS. Chateau Chalon. 03 84 44 68 23
Terrace in the square ideal for lunch on sunny days. Pretty dining room.
AUBERGE CIRQUE DE LADOYE, LADOYE-SUR-GRANGE. 03 84 85 31 33
Simple, cheap food. Amazing view down into our valley. Check for opening times as can be erratic. Recently it opened for week day lunches and Friday dinner .
JEAN-PAUL JEUNNET, ARBOIS. 03 84 66 05 67
One of the best restaurants in France with fantastic flavours . He has two Michelin stars . A lovely place for a special occasion.
LE PARENTHESE, CHILLE. 03.84.47.55.44
Very good food in elegant dining room. A well-runLogis with friendly and efficient staff.